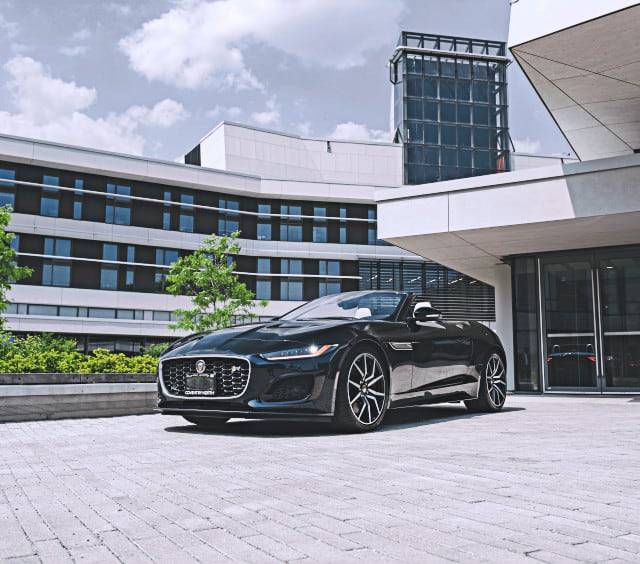 COVENTRY NORTH JAGUAR | JAGUAR DEALERSHIP IN WOODBRIDGE
Welcome to Coventry North Jaguar, a premier Jaguar dealership located in Woodbridge, Ontario. Coventry North Jaguar has been serving the Woodbridge area and the surrounding regions with passion and dedication ever since it first went into business. We specialize in one of the most refined and elegant brands on the road. New Jaguar vehicles offer an impressive lineup that includes some of the best luxury features available in any premium car or SUV. New Jaguar vehicles stand out by offering their owners the technology and performance expected of a modern luxury vehicle along with an elegance that stems from its British engineering and history.
Jaguar vehicles are unlike any of its competitors. They have a little something extra that can be difficult to put your finger on but that Jaguar owners and enthusiasts understand fully. You will feel it too when you get behind the wheel of a new Jaguar vehicle. At Coventry North Jaguar, we will make sure that you enjoy the best service every time you visit us. We are proud of representing the Jaguar brand and everything it represents. We promise that we will go above and beyond your expectations to guarantee your satisfaction. Buying a Jaguar should be as refined and enjoyable of an experience as owning a Jaguar will be. Here are some of the standout models that you will find at Coventry North Jaguar.
Jaguar is a name that rings through automotive history. Jaguar vehicles are some of the most prestigious models ever built and those introduced in the past sparked the fire in enthusiasts. You can visit us today to learn more about the entire Jaguar car lineup, including the Jaguar XE, Jaguar XF, and flagship premium sedan Jaguar XJ. Speaking of flagship models, we can offer you the Jaguar F-TYPE in every trim at Coventry North Jaguar. The Jaguar F-TYPE has the engine notes of an exotic car and the performance of a traditional Jaguar high-performance coupe or roadster. And if you want to know what the future of luxury looks like, take a look at the all-new Jaguar I-PACE. Winner of the AJAC Green Vehicle of the Year award, the Jaguar I PACE boasts the luxury you'd expect from a Jaguar with the only difference being a powerful and efficient electric powertrain.
Coventry North Jaguar believes in quality in everything that we do. This means we also offer a great collection of certified pre-owned vehicles. These vehicles have undergone a comprehensive inspection and are protected by generous warranties that will ensure your peace of mind. Buying a certified pre-owned Jaguar vehicle is the perfect way to enjoy Jaguar luxury and refinement at a competitive price. Discover our inventory of quality pre-owned vehicles today by booking an appointment with one of our sales representatives.